Kyrie Irving's skills are no secret. Scouts rave about the freshman point guard's skills. Coach K's already handed him the reins to the offense. His new teammates at Duke feel the same way.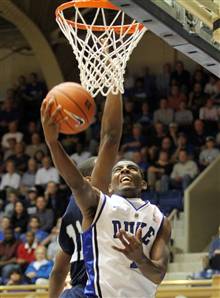 Jim R. Bounds/AP
"[Coach] isn't saying anything about Kyrie that we don't know," senior Kyle Singler told the Raleigh News & Observer.
What we know is that the 6-2 guard can play. He showed as much during Saturday's exhibition win against D-II St. Augustine's. It's wasn't an ACC foe, but it gave Irving a chance to showcase his skills in a game for the first time.
Coach K was a happy man.
In 20 minutes of play, Irving scored 17 points on 6-of-9 shooting, had one turnover, dished seven assists had no trouble creating scoring chances for himself and his teammates. Singler scored 31. Nolan Smith scored 15. And the Devils breezed.
"He's definitely ready," Smith told the paper. "He's easy to play with and he makes the game fun."
How Irving handles tougher foes and the rigors of the long college hoops season remains to be seen. But I'd say he's off to a solid start (especially when he gets to play with Singler and Smith).
"I felt really comfortable out there," Irving told the paper. "It was fun to get out there and play. Everyone really played well."
Mike Miller's also on Twitter @BeyndArcMMiller, usually talkin' hoops. Click here for more.