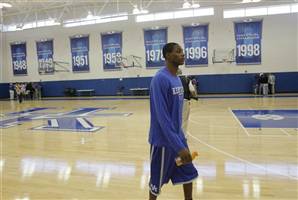 AP
Kentucky may not go 35-3 this season. It may not reach the Elite Eight or tear through the SEC schedule.
But John Calipari's team is gonna be good. There's too much talent on the roster for a seasoned coach like Calipari not to turn in a winner.
And when he does, keep in mind this year's version feature far, far less experience than last season's freshman-filled squad. In fact, according to Kentucky Sports Radio, it'll be the least experienced Wildcats squad in … forever. The breakdown:
Just for comparisons sake, look at the returning experience from the previous UK teams that made the Elite 8 since 2000 and the '96 and '98 teams (along with one addition):

2010-11 (Miller, Liggins, Hood, Harrelson)
209 games, 3040 minutes, 856 points
2009-10 (Patterson, Miller, Liggins, Harris, Stevenson, Krebs, Harrelson)
349 games, 7093 minutes, 2328 points
2008-09 (Meeks, Patterson, Stevenson, Harris, Porter, Stewart, Carter, D. Perry)
300 games, 4571 minutes, 1379 points
2004-05 (Azubuike, Hayes, Moss, Perry, Alleyne, Thomas, Obrzut, Carrier, Lemaster)
419  games, 5123 minutes, 1620 points
2002-03 (Bogans, Fitch, Estill, Daniels, Hayes, Camara, Hawkins, Carrier)
520 games, 9524 minutes, 3764 points
1997-98 (Sheppard, Mohammed, Padgett, Turner, Edwards, Magloire, Mills, Masiello)
482 games, 7223 minutes, 2564 points
1995-96 (Delk, Walker, McCarty, Pope, Epps, Sheppard, Mills)
393 games, 7967 minutes, 3031 points

Here is an AMAZING stat coming into this year: Patrick Patterson entered last season with more career points (1,020) than this years entire team has (856).  Let's not forget that 08-09 team, the one with the least amount of returning experience since 1992 was an NIT team.
(Great stuff there)
Even if Brandon Knight, Enes Kanter and the rest of Kentucky's talented 2010 freshman crop perform as well as John Wall and DeMarcus Cousins and the rest, they still don't have Patterson playing with them. That's a crucial and important distinction to make.
No wonder Calipari keeps trying to manage expectations for this year's group.
Mike Miller's also on Twitter @BeyndArcMMiller, usually talkin' hoops. Click here for more.