Bob Huggins isn't messing around when it comes to raising money to help fight cancer.
But he is having a little fun.
West Virginia's coach lost his mom, Norma Mae, to colon cancer more than seven years ago. Since then, Huggins and his sister, Debbie Bradford, set up an endowment in her name at West Virginia. The goal? Raise a million bucks.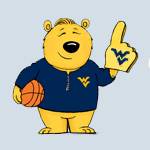 Jeff Moores
"We're using the motto 'Our mom was one in a million, so let's raise $1 million to help fight cancer,'" Bradford told the Coshocton Tribune.
So Huggins got busy. Last month, he allowed himself to get roasted by friends and coaching peers. This month, he's embracing his "Huggie Bear" nickname and developing a Huggie Bear line of goods. That's right, you can own your own Huggie Bear!
Artist Jeff Moores, who attended West Virginia before transferring to a N.Y. art school, met with Bradford and Huggins for ideas, then got to work.
"I drew Huggie Bear, a bear in Coach Huggins' likeness, and he liked the idea only if we donated the proceeds to his mom's charity," Moores told the paper. "I'm excited and understanding of giving to charities. It means a lot to help out, especially with a cancer fund; my aunt, uncle and dad have had bouts with cancer. I got in touch with the hospital, and last spring, I met with Debbie who helped out with ideas and the design. We're slowly putting together ideas. We're just getting started."
Want more than just a Huggie Bear? Try Moores' website, findharri.com, for various Huggie Bear items. And remember, it's for a good cause.
(H/T: Diamond Leung)
Mike Miller's also on Twitter @BeyndArcMMiller, usually talkin' hoops. Click here for more.