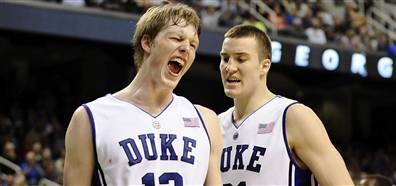 AP
Robbie Hummel's injury drops Purdue from the list of national title contenders. But is it enough to drop the Boilermakers from our preseason Top 25?
My first inclination was to say no. There's still enough talent with JaJaun Johnson, E'Twaun Moore and the rest of Matt Paintewr's team to form a team worthy of being in the Top 25. Heck, even without Hummel last season, Purdue reached the Sweet 16.
Then I read Dan Hanner's revamped Big Ten efficiency projections that slated Purdue fifth in the conference behind Ohio State, Illinois, Michigan State and Wisconsin – and 29th overall – and gave it some more thought. Purdue will surely miss Hummel's shooting, rebounding and overall solid play (only Duke's Kyle Singler is a more versatile small forward).
Is that enough to propel Missouri or Georgetown into the Top 25? Yes.
Everybody give a big welcome to Mike Anderson's Tigers, 25th in our new (revamped) preseason Top 25. Everyone else moves up a spot. (Consider Purdue now 26th, ahead of Georgetown.) Sorry Purdue.
Our revamped Top 25, with a new capsule for Missouri.
No. 1: Duke Blue Devils
No. 2: Michigan State Spartans
No. 3: Kansas State Wildcats
No. 4: Pittsburgh Panthers
No. 5: Ohio State Buckeyes
No. 6: Kansas Jayhawks
No. 7: Villanova Wildcats
No. 8: Memphis Tigers
No. 9: Florida Gators
No. 10: Syracuse Orange
No. 11: Kentucky Wildcats
No. 12: Baylor Bears
No. 13: Gonzaga Bulldogs
No. 14: Washington Huskies
No. 15: Illinois Illini
No. 16: San Diego State Aztecs
No. 17: Virginia Tech Hokies
No. 18: Butler Bulldogs
No. 19: Temple Owls
No. 20: Tennessee Volunteers
No. 21: North Carolina Tar Heels
No. 22: UNLV Runnin' Rebels
No. 23: Xavier Musketeers
No. 24: Wichita State Shockers
No. 25: Missouri Tigers
Mike Miller's also on Twitter @BeyndArcMMiller, usually talkin' hoops. Click here for more.