AP
Not everyone loves Midnight Madness. Sure, it's a glorified scrimmage with a few goofy skits, speeches and a fancy entrance or two, but those celebrations are why fans embrace the whole thing.
Well, that and the chance to see their basketball team for the first time.
Friday was that night. And fans got to see just that. Here's a roundup of the night's activities.
Duke revels
A few stitches to Seth Curry's ear was the only thing that put a small damper on a night when the Blue Devils raised another championship banner. This group sounds amped for a chance at back-to-back crowns.
Ground control to major Tom
What would Michigan State's Midnight Madness be without an entrance by Tom Izzo is a goofy outfit? Even better for the Spartans was that guards Kalin Lucas and Korie Lucious both appeared healthy, ready and fast. Promising for a title contender.
Calipari says "it's time to turn the page"
Kentucky's coach has been preaching patience with his 2010-11 squad for a while now. There's nothing new to report on the eligibility of freshmen center Enes Kanter. The rest of the roster turned in a fairly impressive night, though.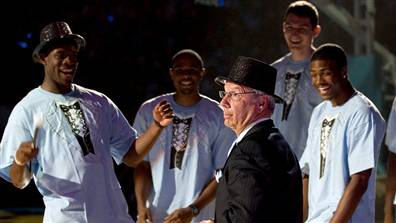 AP
Roy still has smooth moves
It's not Midnight Madness without a photo of Roy Williams cuttin' a rug. Or least trying to dance. He was probably more excited to watch freshman Harrison Barnes rip it up in the Tar Heels' scrimmage.
Angry dogs
ESPN's coverage of Gonzaga's festivities didn't fly with the guys at the Slipper Still Fits, who also had to settle for random news and links from the Bulldogs' scrimmage.
Word to your mutha
Bill Self broke out his best Vanilla Ice outfit for Kansas. Maybe it's because the Jayhawks aren't getting as much respect as Self would like.
"Madness in Manhattan"
Kansas State's on the short list of national title contenders, and welcomed more than 7,000 fans to Bramlage Coliseum Friday night. That pales compares to what Kansas or Kentucky pack in, but it's a great start for a team on the rise.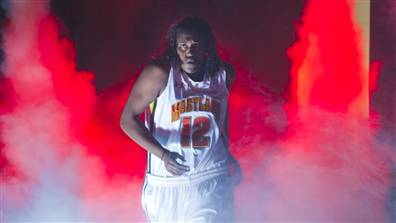 AP
Maryland takes it to the next level
The Terps invented Midnight Madness. Perhaps Friday signaled a sign of things to come – Gary Williams makes a grand entrance! Fireworks! – as he did his best to play to the crowd. "This is an exciting time of year for me," Williams told the crowd. "We're going to have a great team, so just be with us."
Mike Miller's also on Twitter @BeyndArcMMiller, usually talkin' hoops. Click here for more.