Renardo Sidney spent last season watching Mississippi State from the sideline, unable to play because of impermissible benefits he received while in high school.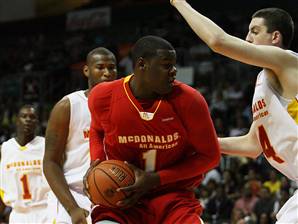 Doug Benc/Getty
Instead, the Bulldogs finished 24-12 and just missed the NCAA tournament. The 6-10, 285-pound center stressed about the sitting as his weight ballooned (he hit 312 pounds) and he lost motivation.
This season, that's all changed. Sidney will miss the first nine games as part of his NCAA suspension. Then, it's on.
So how did he recharge his batteries? He and Miss St. coach Rick Stansbury fished.
"We'd stay out there for hours, talking about sports, life … whatever," Sidney said. "I love fishing. It takes me away from all the stress of basketball. It's a great way to clear your mind."
That's from a delightful feature from Yahoo! Sports' Jason King, who gets Sidney to open up about his past, the suspension and how he spent the summer regaining his focus. Give it a read. When Sidney dominates the SEC this season, you'll be able to know why.
Mike Miller's also on Twitter @BeyndArcMMiller, usually talkin' hoops. Click here for more.