It's a rite of spring – coach gets fired, Jamie Dixon's name is floated as a candidate.
Last spring, the Pittsburgh coach turned down Oregon. He also has passed on gigs at Arizona, Arizona State, Missouri, Oklahoma State and USC. That's what happens when you win 27 games a season and never miss the NCAA tournament.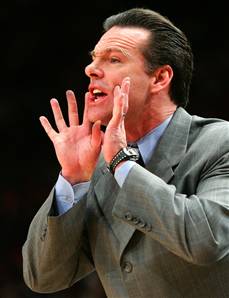 Jim Mcisaac/Getty
Next spring may be different. Dixon, 44, sounds like a guy who's in it for the long haul at Pitt. From the Pittsburgh Post-Gazette:
"If you operate with the intention that you're going to move in a couple of years, then you're not doing things the same way, with basketball or outside of basketball. I guess what I'm saying is the people I work with every day I plan on working with them the rest of my life. I think you have to operate under that kind of belief. That makes you do things the right way. That's a big part of life and the decisions you make."
It's a nice quote. I'm sure Dixon, an earnest, straightforward coach by all accounts, means every bit of it. The calls will still come every spring.
There aren't many better jobs out there — the Panthers have great facilities, rabid fans, play in a fantastic basketball conference and Dixon makes $1.6 million a season – yet as long as new jobs open up and athletic directors have cash to offer, Dixon will get calls. He's too good not to.
If Tom Izzo has to occasionally deal with job rumors (and sometimes offers!), there's no reason to think people won't come after Dixon simply because he says he's happy.
Things can change. Dixon, a California native, may eventually want to return to the West Coast. If Pitt AD Steve Pederson departs, Dixon may not like the replacement. Or Dixon could eventually just want a new challenge.
Until then, Dixon's Panthers will keep winning. And the calls will keep coming.
Mike Miller's also on Twitter @BeyndArcMMiller, usually talkin' hoops. Click here for more.