Connecticut's admission of major NCAA violations committed by its men's basketball program produced reactions one might expect: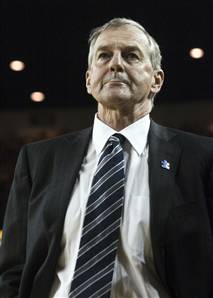 Tony Ding/AP
Tough to argue with any of those. When a program admits it made impermissible telephone calls, text messages and provided improper benefits to high school coaches and others, it shouldn't expect any friendly treatment.
Ever since Yahoo! Sports broke a 2008 story regarding the recruitment of Nate Miles, things haven't looked promising for the Huskies. Jim Calhoun, in his usual, brusque manner, was openly defiant at the report and seemed to be put off by the whole thing. Now, it's developed into a permanent stain on his Hall of Fame career.
And there may be more hits to come, particularly if the NCAA upholds that Calhoun didn't promote an atmosphere for compliance.
UConn will have a hearing Friday before the NCAA infractions committee, which could impose additional penalties to the school's self-imposed sanctions of two years' probation, a reduction on the number of coaches who contact recruits and the loss of one scholarship for the next two seasons. It's never easy to predict how the NCAA will react, but more penalties seem likely.
As Jeff Jacobs of the Hartford Courant points out, those are hardly stiff penalties.
UConn only has 12 scholarships some years anyway. George Blaney rarely travels to recruit. And probation is little more than an order to keep your nose clean.

We should all be punished so severely.
Indiana received harsher penalties for violations under then-coach Kelvin Sampson, and those violations didn't involve improper benefits. UConn exhibited similar sloppiness when it came to violations regarding phone calls and texts. Using the Hoosiers as a barometer, UConn could face additional recruiting penalties and another year of probation.
So where's this leave Calhoun?
The coach, 68, signed a five-year, $13 million contract extension last April. If more penalties come down – or if the NCAA upholds the compliance ruling – Calhoun may have to consider retiring or taking another position in UConn's athletic department (his contract stipulates he'll have a position if he doesn't coach for the full extension). 
But I can't see that happening. Calhoun's never backed down from a fight. Why would he back down from this one?
If his drive was his program's undoing, then it'll serve him well when UConn tries to recover from this episode. He's a proud, accomplished coach who's won two national titles, is already in the Hall of Fame and built the Huskies into one of the nation's premier hoops powers. The last thing he wants is to end his career like this.
Given the chance, I'd expect Calhoun to spend every bit of his remaining extension working to restore some of the luster to UConn – and his reputation.
Mike Miller's also on Twitter @BeyndArcMMiller, usually talkin' hoops. Click here for more.