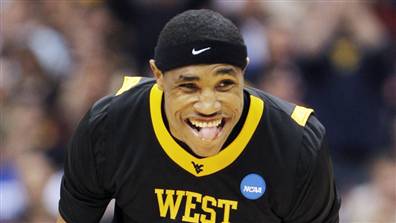 Brian Snyder/Reuters
The preseason Top 50 for the Wooden Award will always be an imperfect list. Anything that precludes certain players – freshmen, transfers and medical redshirts aren't eligible for the preseason 50, but can be added later – is destined to be mocked.
That automatically excluded two of last year's five finalists – John Wall and Wesley Johnson – from consideration. This season, that means ignoring guys like Harrison Barnes, Jared Sullinger and Kyrie Irving, among others.
Then there's the 50 on the list. Some, like Arizona State's Ty Abbott, don't belong. Not when omissions include these guys:
West Virginia's Kevin Jones (after a breakout sophomore season, he'll be the Mountaineers' main man this year)
Xavier's Tu Holloway (point guard won't have impressive stats, but he's the leader and defensive stalwart for a Top 25 team)
Georgetown's Chris Wright (Austin Freeman gets most of the attention, but Wright's the driving force for the Hoyas)
Morehead State's Kenneth Faried (averaged 17 points, 13 rebounds, 2 blocks and 2 steals last season; ask NBA scouts if he belongs on the list)
Those four are the biggest snubs. At least two will be on the midseason update, not to mention at least five freshmen. Revamp the rules!
Mike Miller's also on Twitter @BeyndArcMMiller, usually talkin' hoops. Click here for more.