The odds of Kentucky replicating its marvelous first season under John Calipari – 35-3, SEC titles and a spot in the Elite Eight – are mighty slim. Calipari knows it, and he's said as much all summer.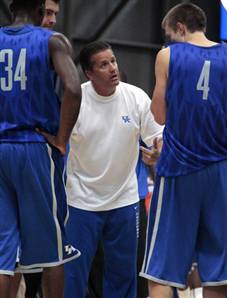 Jerry S. Mendoza/AP
"They won't," UK's coach said in a story by Jerry Tipton of the Lexington Herald-Leader. "You can write that down right now. They can't. It's impossible."
Calipari's a great recruiter, good coach and savvy handler of the media and fans, so it's hard not to read into that quote a little bit. He knows his guys are going to be good, but he wants to ensure Big Blue Nation doesn't expect too much from his team. (Lou Holtz perfected that move.)
Then again, he's also being realistic. A team that loses five guys to the NBA draft will struggle at times no matter how much new talent arrives.
"Outside of Kentucky, (people are saying), 'There's no way they can be as good as they were a year ago. They just lost too much,' "Calipari said. "In Kentucky, 'They're going to be better and they're going to win by 30.' "
But you know what? Kentucky fans should feel that way.
Calipari imbued the program with a renewed sense of "We can do anything because we're Kentucky basketball." By opening his tenure with a brilliant season – and following it up with the No. 1 recruiting class – I'd also expect more of the same.
True, center Enes Kanter may not be available for a while, or at all. There's also no Patrick Patterson this season to provide upperclassman leadership. But there's plenty of talent. And in what looks to be a wide-open season, talent could be enough to sneak into the Final Four.
"The team goal is the national championship, everybody knows that," Calipari said. "And I think we have a very good chance."
Mike Miller's also on Twitter @BeyndArcMMiller, usually talkin' hoops. Click here for more.