It's the last go-round for Purdue's big three of E'Twaun Moore, JaJuan Johnson and Robbie Hummel. They've been the core of Matt Painter's team the last three seasons, winning an average of 27 games a year and snagging a share of last season's Big Ten title. Expect the Boilermakers to be a Top 10 mainstay throughout the 2010-11 season.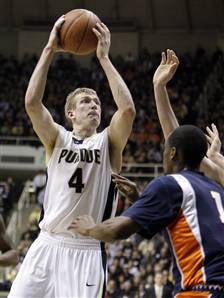 Michael Conroy/AP
But to finally reach that elusive Final Four, all three need to be healthy, all season long.
(turns to look at Hummel)
So how is that knee, Robbie?
"I've been cleared to do everything — (renowned orthopedic surgeon) Dr. (Donald) Shelbourne cleared me," Hummel said Thursday night. "We're just slowly working into it. Practice is still a few weeks away, we're not playing games for a while here.
"I'm jumping better, I'm able to dunk again, and I'm moving pretty good. So I feel pretty good where I'm at. I'm ready for the season to start, just like everybody else is."
That's from a story in the Gary (Ind.) Post-Tribune, which painted Hummel as upbeat and optimistic about a healthy season, but staying cautious about doing too much, too soon.
And with good reason. The senior swingman has dealt with a variety of injuries during his career. He finally resolved some back issues when he tore his ACL late last season, which essentially prevented the Boilermakers from any shot at a No. 1 seed in the NCAA tournament.
This year, Hummel, Moore and Johnson will try again and hope it all clicks.
"It's our last go-around," Hummel told the paper. "Me, E'Twaun and JaJuan realize that. We want to do something special, we want to do it together.
Mike Miller's also on Twitter @BeyndArcMMiller, usually talkin' hoops. Click here for more.