All signs point to a banner year for Michigan State.
The Spartans return five of their core players from back-to-back Final Four squads (Kalin Lucas, Durrell Summers, Draymond Green, Delvon Roe and Korie Lucious) to pair with a heralded group of freshmen headed by guard Keith Appling and center Adreian Paine. Then there's Tom Izzo, perhaps the game's best coach during March.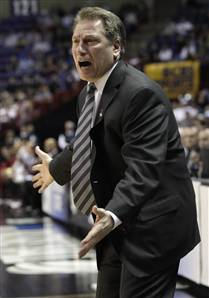 Rajah Bose/AP
Throw it all together and it's tough to pick against Michigan State – if not for the summer of distractions.
Now there's an assault allegation that could linger. If the injury worries weren't enough, off-court issues rarely help a season. It's almost as if Michigan State's potentially great season needs to pass test after test before the Spartans are really ready to make that Final Four run.
And they better be. The Big Ten promises to be more challenging than ever. Purdue and Ohio State are Final Four contenders, Illinois and Wisconsin are Top 20 good and the bottom dwellers should be respectable. If Lucas and Lucious struggle, it'll be an issue. But a few hiccups are what the early months are for, and why Izzo gets the big bucks.
By March, a banner year may happen. And this group will have earned it.
Mike Miller's also on Twitter @BeyndArcMMiller, usually talkin' hoops. Click here for more.