Dee Bost's boneheaded move won't cost him the 2010-11 season. Just a good chunk of it.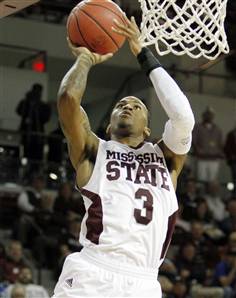 Rogelio V. Solis/AP
When the Mississippi State guard declared for the 2010 NBA draft, he somehow forgot or misremembered the May 8 early withdrawal date. So the junior pleaded his case – pleading forgetfulness – and the NCAA showed some mercy.
"I want to thank the NCAA for hearing my case and allowing me to return to school and play basketball," Bost said in a statement. "I only wanted to test the waters and then return to Mississippi State. I realize I made a huge mistake in how I handled the situation, and I am thankful for a second chance."
Bost will serve a nine-game suspension, but it won't start right away. Instead, it'll begin once Bost – who's not academically eligible for the fall semester – regains his eligibility. So when is that? No one knows yet.
MSU's fall semester ends Dec. 10, but the school hasn't released its complete non-conference schedule. If it's anything close to last season's slate, he'll probably be out until mid-January and miss a couple of SEC games.
By then, prized recruit Renardo Sidney – who missed the entire 2009-10 season and will sit out the first nine games of the season – should be ready to pair with Bost and give the Bulldogs a nice little inside-outside combo.
Talk about a pairing coach Rick Stansbury never expected to see.
"I'm glad to have this behind us and now we can move forward," Stansbury told the Clarion Ledger.
Mike Miller's also on Twitter @BeyndArcMMiller, usually talkin' hoops. Click here for more.