Xavier may play in the A-10, but it's not really a mid-major. And now the Musketeers have the uniforms to prove it.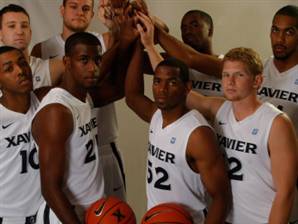 University of Xavier
Much like Gonzaga and Memphis, Xavier claims NCAA tournament success that only BCS schools usually enjoy. Part of that's due to its allocation of resources on basketball – 30 percent of the athletic budget goes to hoops – but give credit to the players it recruits and the coaches on the sideline. As a result, Xavier's been to the last three Sweet 16s and won 245 games since 2000.
So Nike declared the Musketeers worthy of joining the likes of Texas, Pitt and Oklahoma as part of the Nike NTS group – also known as letting the swoosh folks outfit your guys in top-of-the-line gear. They'll be one of six schools without BCS football in that NTS group, joining Gonzaga, Marquette, St. John's, Georgetown and Villanova.
In other words, it's not just a fancy uniform (with a throwback jwersey!). It's something to use in recruiting and to tell boosters.
"This is another important part of what sets Xavier apart as an elite basketball program," coach Chris Mack said in a release. "Our players love the new uniforms and I know our fans will as well."
Want to be one of the big boys? Wear the clothes.
Mike Miller's also on Twitter @BeyndArcMMiller, usually talkin' hoops. Click here for more.