Wondering if Bill Self's ready to let Tyshawn Taylor run the show for Kansas? Facebook might provide some insights.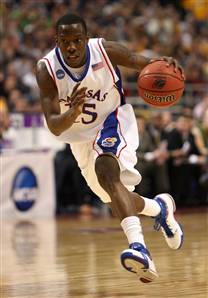 Jonathan Daniel/Getty
The junior guard – banned from the social networking site last January when he used it to threaten to transfer because of frustrations regarding his role on the team – was OK'd to rejoin Facebook during an informal meeting with his coach earlier this August, according to a story from Gary Bedore of the Lawrence Journal-World.
Taylor told Self he'd done his penance and wanted back on. Self thought about, and said yes. And Taylor's not about to blow this chance.
"I mean, I am not giving him any reason not to trust me," Taylor told the J-W. "I think trust is earned. Once somebody trusts you and then they feel they can't, you have to earn it back. I'm trying to do everything to get him to trust me, because I know that's a big part of me being a point guard on this team.
"I can't be a point guard if coach doesn't trust me."
That's the key here. Sherron Collins is gone, and Kansas is still awaiting word on Josh Selby's eligibility. That leaves Taylor as the primary playmaker for a team with Final Four aspirations but with questions about who's going to get them there.
A more mature, consistent Taylor would be ideal to lead the way.
"When Ty is playing well, he gives us a little more oomph,"' Self told the J-W. "He's a guy on our team who can go make a play by beating a guy off the bounce. He gets to the line by attacking the rim.
"I think his ceiling is still very high, and he has a couple steps before he gets to that ceiling. Hopefully he'll play at that high level the rest of the way."
Mike Miller's also on Twitter @BeyndArcMMiller, usually talkin' hoops. Click here for more.