Jay Wright faces one of those "nice problems" this season. What to do with all these talented guards?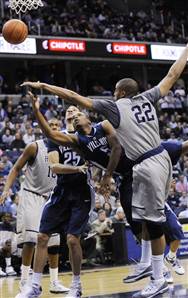 Nick Wass/AP
How does one find enough time for Corey Fisher, Corey Stokes, Maalik Wayns, Dominic Cheek and James Bell? Fortunately, Wright's an old pro at something like this. He did so in 2006 (Randy Roye, Allan Ray, Kyle Lowry and Mike Nardi all played massive minutes) and has handled it ever since with guys like Scottie Reynolds, Fisher and Stokes.
But five worthy guards? That's a tougher playing time issue. And the biggest question of all – who runs the show?
Brian over at VUHoops.com tackles this issue, weighing if a Fisher-Wayns backcourt is more appealing than Fisher-Stokes or even Wayns-Stokes. Not that he really likes any of the options.
Fisher's expected to be the man in 2010-11, with Wayns, a sophomore playing a supporting role. Wayns may be the better point guard among the two, but Fisher's a senior, he's paid his dues and he's probably the safest bet, particularly when paired with Stokes.
I'd take a different approach. Given Fisher doesn't struggle scoring, I'd use him in the backcourt alongside Wayns. It would provide the 'Cats with far more offensive flexibility – two guys who can break down defenses is better than just one – and allow Wayns to continue his development. (It may not be what Fisher plays in the NBA, but one season as a scoring guard isn't going to derail his draft hopes.)
Wright will probably mix the approaches given who's playing well. He's never been a coach to sit his best players just because they don't fit into a specific role. His best players are on the court.
That's why he wins.
Mike Miller's also on Twitter @BeyndArcMMiller, usually talkin' hoops. Click here for more.