New NCAA president Mark Emmert supports tougher penalties for schools who break the rules. It's sure to be a popular statement among fans and pundits, who've watched as the summer months turned into a bit of a dramatic mess.
Forget the notable arrests and just focus on the NCAA issues: UConn and Tennessee self-imposed penalties due to violations, while some star recruits have had transcript issues. And that's just for hoops. I don't even want to get into football's problems.
"It's very complicated, a highly dynamic environment," Emmert said Tuesday. "Around elite athletes, there are always people who see an opportunity to make money in the future, so the opportunities for those things are sort of omnipresent and what the university president and athletic directors have to do is be as rigorous as they can with what the university stands for, their values and be very attentive to it.
"And even then, sometimes, that (rules violations) happens."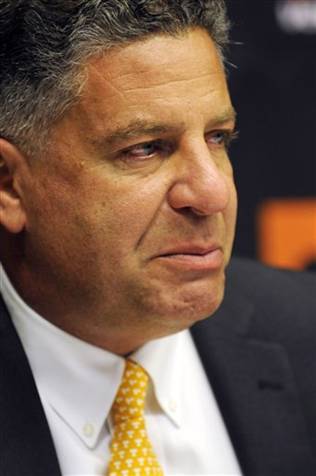 AP
So here's the thing — if rules violations happen, how much cheating are we willing to tolerate?
 
Bruce Pearl undoubtedly stepped afoul of NCAA rules. He and his staff not only made impermissible calls to recruits, he reportedly hosted prospects when he shouldn't have. Some might scoff at the idea that a guy should be pilloried because he didn't break laws, only rules that may be seen as antiquated. Regardless of how you view Pearl, he's not doing anything other coaches already do. (He just did them at what seems to be a much, much higher level and is being punished accordingly.)
A survey of 20 coaches by ESPN's Dana O'Neil found that most don't trust their peers. When CBSSportsline's Gary Parrish interviewed 10 coaches after the Pearl mess, all 10 admitted they'd made impermissible calls. Some a few times; some many times.
"Any coach who tells you he hasn't is lying," one told Parrish. "We've all done it. You don't need to interview coaches to get that answer."
Some might argue that world view — "Rules? The rules don't apply to me." — is part of what makes great athletes and great coaches, well, great. They don't always do things according to the rules. They do things how they think they should.
Even the game's legends don't escape that type of behavior if people associated with their program choose to ignore the rules.
But some bad behavior we choose to ignore. Some we choose to laugh about. Some we choose to vilify.
So what are we willing to tolerate?
Not the blatant cheaters. No paying players or agents. No grade changing.
Yet if we accept that some NCAA rules are silly — text messaging, for one — but still need to be followed, perhaps that's one violation to tolerate. If coaches or programs run afoul of those rules then we can treat said rule breakers lightly. The same might apply to impermissible calls. But there's a point where even silly rules stop being silly and start being serious. From Parrish's article:
The only debate was whether the illegal calls are more often a sign of confusion or intentional cheating. One coach said the number of them typically tells the story.

"There's a difference between 15 and 200," he said. "It might be accidental if you make 15 impermissible calls over a two-year period, but you can't accidentally make 200; that's cheating. There's no way the gray area leads to 200."

To understand the gray area you must first understand that coaches are only allowed to call prospects once a month starting June 15 before their junior years, then twice a week starting August 1 after their junior years. It's also important to note that calling a prospect's family member is the same as calling a prospect. There are also guidelines that make it improper to call prospects while they're at sanctioned summer events. So some impermissible calls, the coaches said, are rooted in calendar confusion and can be unavoidable.

"Let's say there's a kid I'm recruiting who's scheduled to play in an AAU event, go home for a day, then play in another AAU event," said one coach, citing just one example of how an impermissible call might get made. "I can't call while he's at either event, but I can call while he's home. So on the day that he's scheduled to be home, I call his cell phone. But what if his team decided at the last minute to go straight from the first event to the second event without going home? Now I've just made an impermissible call, and it was unavoidable."
Thankfully, this is where Emmert comes in. The NCAA is supposed to examine those gray areas and decide what sort of punishment is necessary. Egregious violations call for serious consequences. When minor violations continue to mount, so should the consequences. And the small stuff? That's where common sense applies.
We can tolerate coaches and programs who stretch the rules. If I expect a little forgiveness for jaywalking (there were no cars in either direction!) or speeding (seriously? it's only 50 mph on the Interstate?), then I'll probably cut a coach some slack who makes a few impermissible calls. But blatant rule breaking is out. That's not worth tolerating, no matter how good a coach or athlete you are.
Mike Miller's also on Twitter @BeyndArcMMiller, usually talkin' hoops. Click here for more.