It's crunch time in Birmingham.
Results of an investigation by a Birmingham law firm into Eric Bledsoe's high school transcripts should land later this week, but the Birmingham News provided what seems to be a sneak peek at the details.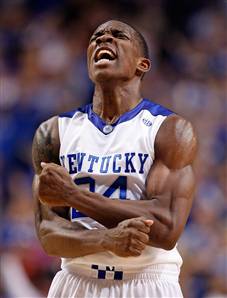 Andy Lyons/Getty
And it's those details that'll determine how the history books view Kentucky's impressive initial season under John Calipari: 35 wins, SEC regular-season and conference tourney titles and a trip to the Elite Eight. Yet it won't be the NCAA that makes the ultimate decision.
That would be the Birmingham school district. Back to that in a moment.
Based on the News' comprehensive story on Bledsoe's high school grades, there are a few things to consider:
He took BYU online classes to become eligible (which was allowed under the rules, but not now).
Bledsoe took Algebra 3 before Algebra 2 (actually fairly common).
His final Algebra 3 grades were significantly higher in on his final course grade than he originally received.
That final bit will be the most compelling piece of information. Consider what the course's teacher, Larry Webster told the News:
Webster, said the final course grade recorded on the night-school grade report is wrong. "You've got the wrong grade. There are two of those printout sheets. I already talked to the (school) board attorney." He said he wouldn't comment further and hung up.
If that grade was changed, it'll alter Bledsoe's core GPA, thus making him retroactively ineligible for the 2009-10 season. But it's not that simple when it comes to affecting Kentucky's season.
As John Gasaway points out, there are three likely scenarios for what happens next, but two of them rely on what the school district decides. The NCAA won't make a ruling affecting Kentucky's season unless Bledsoe's high school diploma – and thus, his eligibility – is revoked.
That's one massive season resting on a school board in Birmingham. Good work, NCAA.
Mike Miller's also on Twitter @BeyndArcMMiller, usually talkin' hoops. Click here for more.