Ali Farokhmanesh's clutch three-pointer in Northern Iowa's NCAA tournament stunner against Kansas last season will go down as the most memorable moment in the program's history.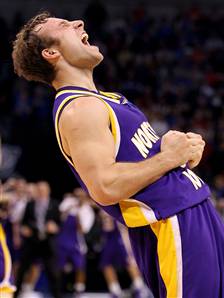 Ronald Martinez/AP
It also could be the last one.
UNI president Ben Allen told the Des Moines Register that the school's athletic department budget (currently $11.6 million, $4.45 million of which comes from the university's general fund), may need to be cut by more than $200,000 by 2015. If that happens, the school might just do away with all sports because of lost revenue related to the loss of D-I status.
"I think we're pretty close to the edge of what we can cut and maintain competitiveness," he told the paper.
It'll all part of a report UNI and Iowa State will make Thursday to the state board of regents on how to substantially cut — or eliminate — general funds (taxpayer and student money) from athletic programs. Iowa State is weaning itself off the general fund after this budget year. Sports won't be affect. Iowa did away with using the general fund on its athletic program in 2007.
But Northern Iowa needs that money. General funds account for 38 percent of the school's athletic budget, the paper reporter. Those funds would be reduced to about 30 to 35 percent under the proposed plan. The problem is that the anticipated ripple effect, which would lower enrollment and a loss of tuition money. If that happens, then any budget savings woulod be negated. That's the nightmare. From the paper:
The university might do away with intercollegiate athletics entirely if it loses Division I status because drastic revenue reductions may make lower division athletics too costly, Allen said in the interview with the Register.

He said UNI would likely suffer drastically lower marketing contracts, fan support and ticket sales without top division sports.

"The serious question would be, 'Should we have any type of athletic program, at least here at UNI?'" he said.
That's the $11.6 million question, isn't it?
Mike Miller's also on Twitter @BeyndArcMMiller, usually talkin' hoops. Click here for more.