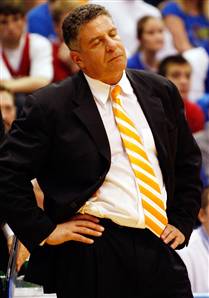 Jamie Squire/Getty
When Bruce Pearl admitted he gave misleading and incorrect information to the NCAA about possible violations during an investigation into his Tennessee program, he probably thought he could stonewall when it came to questioning.
He didn't know the NCAA had incriminating photos.
According to a report from Gary Parrish, Pearl hosted 2010 high school grads Aaron Craft and Josh Selby during an unofficial visit in 2008. That's a no-no. NCAA rules don't allow juniors to engage college coaches away from campus. So Pearl denied it.
But, according to Parrish, the NCAA already had a photo of Pearl and Craft at Pearl's house, which is what led to the questioning.
(Who took the photo? How did the NCAA get it? Parrish's source doesn't say, or know.)
Guess we shouldn't be surprised. As Dan Wolken points out, Pearl's never been one to use discretion regarding photos.
As a footnote: Craft and Selby both de-committed from Tennessee. Nothing in this saga paid off for Pearl.
Mike Miller's also on Twitter @BeyndArcMMiller, usually talkin' hoops. Click here for more.