Amid a fabulous college football weekend and the NFL openers, there's still plenty of excellent college hoops reading material out there.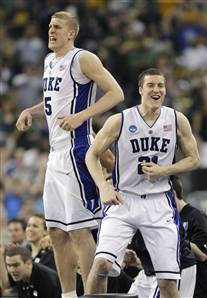 David J. Phillip/AP
A prime example is this feature from ESPN.com's Pat Forde on the Zellers and Plumlees, two Indiana families who have produced 41 feet of D-I hoops talent. You'll recognize the six boys (high school graduates between 2005 and 2011) – Luke, Tyler and Cody Zeller; Miles, Mason and Marshall Plumlee.
Miles and Mason played on Duke's national title squad last season. Marshall will join them in Durham for the 2011-12 season. Tyler will be UNC's starting center this season, while Cody (a 2011 H.S. grad) is still settling on a school. Luke is the only one who's stayed in state thus far, playing at Notre Dame.
That's the part that must drive Indiana fans crazy. Six in-state talents, yet none of them are Hoosiers? Given that Tom Crean's said he's eager to retain the top in-state talent, Cody Zeller must be a priority. From Forde's article:
The Hoosiers were not a factor with Luke Zeller, and were up to their pinstripe warm-ups in scandal when Tyler was being recruited. They offered all three Plumlees, but Miles and Mason were not interested because of the fallout from the Kelvin Sampson disaster.

But Marshall seriously considered his offer from Crean, and Zeller is even more serious. He's cut his final three schools to Indiana, Butler and North Carolina.

And if there was pressure on the Plumlees to stay put in high school, you can imagine the pressure on Cody to stay put for college. Especially with fans clamoring for Crean to deliver his biggest in-state signee yet at Indiana.

"I'm the one who has to live with the decision," Cody Zeller said.
At this point, Zeller lists all three schools as "medium interest" according to Rivals and Scout. The odds favor him staying in the state – but maybe not as a Hoosier. Would you bet against Brad Stevens if he doesn't pick Roy Williams?
Mike Miller's also on Twitter @BeyndArcMMiller, usually talkin' hoops. Click here for more.