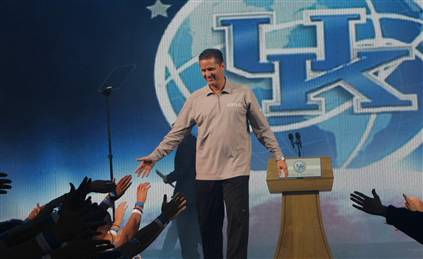 Ed Reinke/AP
Ever wonder why Kentucky fans love John Calipari so much?
Is it the on-court results (35 wins, an SEC title and a trip to the Elite Eight)? The recruiting hauls (three-straight No. 1 classes)? The elevation of the program into 24/7 news coverage? Well, yeah. Those are pretty good reasons.
But there's something more – like the complete embrace of the Big Blue Nation.
Consider this story from the Louisville Courier-Journal. Calipari's been making the rounds the last two weeks on a book tour (he sells books, does a meet-and-greet with fans) and stopped to wish
Dr. Gifford Blyton, a 102-year-old Kentucky fan and a season ticket holder the past 62 years, a happy birthday. That'll earn you some points among the BBN.
"You give money, and you're giving a fraction of what you have," Calipari said last week. "But when you give your time, you're giving everything."
Mike Miller's also on Twitter @BeyndArcMMiller, usually talkin' hoops. Click here for more.