Unless you live in Indiana or are a die-hard Hoosiers fan, you probably didn't know Friday marked the 10th anniversary of Bob Knight's firing from Indiana. Not to worry! The Indianapolis Star has you covered.
From Terry Hutchins' lengthy feature story – a full recap, the latest on the Knight's issues with the school and how people feel about the coach now – to Bob Kravitz's column calling for Knight to help clean up college hoops and sidebars on Knight's highs (national titles) and lows (choking accusations) while coaching IU, it's a fairly impressive package. Some highlights: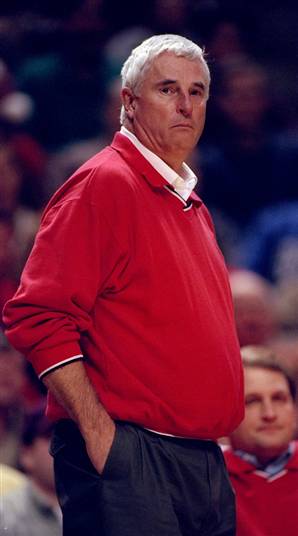 Jonathan Daniel / Getty Images
Kent Harvey, the Indiana student whose greeting – "Hey, Knight, what's up?" – angered the coach and was the final straw for Indiana president Myles Brand, says he doesn't harbor any animosity toward Knight. Frankly, he thinks the whole thing was overblown.
"Obviously, Bob Knight's dismissal at IU was a huge story. But the encounter with Bob Knight and me was over-emotionalized. He did grab my arm, but some people said, 'Oh, he threw him up against the wall and did all this.'

"He didn't do that. I'm not condoning what happened, but the story wasn't that big. There are two stories, one with me and Bob Knight, and another of Bob Knight's dismissal. Bob Knight was on some 'zero tolerance' policy. He's done other things that are bigger than grabbing my arm and telling me I need to call him coach Knight or Mr. Knight."
Harvey, now 29, married and living in Carmel, Ind., says people still recognize him, though the reaction is mild. Ten years will do that.
When Knight held his final team meeting after the firing, things got emotional. Even for the famously bristly coach.
Players such as Jared Jeffries and Dane Fife thanked their coach and started to give him hugs when Knight turned to team doctor Larry Rink and said "I can't do this." Hey, no one said the guy didn't have a heart. The temper was the problem.
"I think what he really meant was, 'I can't sit here and face these guys,' " Fife told the Star. "He saw the hurt in us. He saw (Jarrod) Odle and he saw (Kirk) Haston. Haston had been through hell the previous summer. I think he realized how much he meant to us, and that was special for us to know that."
So will Knight and the school ever patch things up? That's the big question. It probably won't be resolved anytime soon. From Hutchins' story:
Bob Hammel, former sports editor of the Herald-Times in Bloomington and one of Knight's closest friends, said Knight, who turns 70 in October, is "rigid" about the idea of reconciliation and still harbors ill will.

"I just think he's so locked into the fact that there are still so many people (at IU) that he can't stand," Hammel said. "There are still too many, and still too much of a negative feeling, at least in his mind anyway. Most of them are gone, but not all of them.

"Until they're all gone, I don't think it will happen."
Fife is slightly more optimistic.
"I think it's going to happen," Fife told Hutchins. "He has to come back. He means way too much to too many people to stay away. And I think he knows that, but I also know that he wants to go under the right circumstances."
Mike Miller's also on Twitter @BeyndArcMMiller, usually talkin' hoops. Click here for more.