Kentucky hoops is awaiting word on a pair of investigations. One will affect last season, while the other will influence this season.
And at this point, it's hard to say what either outcome will be.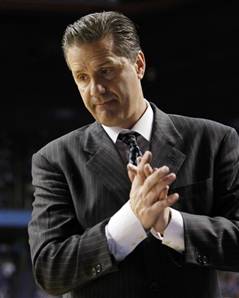 Ed Reinke/AP
First, the 2009-10 season. The law firm that investigated Eric Bledsoe's high school academic record is expected to announce it findings next week, the Birmingham News reported. The report should focus on Bledsoe's grades at two high schools in Birmingham as compared to his final transcript.
According to the original N.Y. Times report, Bledsoe, a guard who left Kentucky after one season for the NBA, also received money for family needs, but the law firm hasn't been investigating that, only his grades.
"We will not investigate any other issue," U.S. Clemon told the paper.
Then there's this season – and the eligibility of freshman Enes Kanter. Wildcats coach John Calipari expects to hear that outcome sometime in the next 10-14 days, Mike DeCourcy reported.
The NCAA is trying to determine if Kanter, a 6-11 center who played professionally for Fenerbache Ulker, was compensated in expenses, not salary, as NCAA rules allow.
DeCourcy has a well-reasoned essay on the matter, which concludes that Kanter probably should be cleared because it doesn't make much sense for him to spend the last few months jumping through different hoops and meeting with different officials if he weren't committed to being a collegian. If he wanted to be a pro, DeCourcy writes, he'd merely have to return home.
That's true, except for one thing: If Kanter wants to merely be a pro, yes, he could simply return to Turkey. But if he wants to play in the NBA, a route through Kentucky is a far better option. Fenerbahce could retain his draft rights for years. At Kentucky, he'd merely have to play for two semesters, then enter the draft.
Still, that shouldn't derail Kanter from playing college hoops, if the documentation is there. If he wants to be a one-and-done player, he's no different than any other elite freshman prospect.
UPDATE: Calipari may get that news sooner rather than later. Fenerbahce's general manager told the N.Y. Times that it paid Kanter more than $100,000 in cash and benefits during a three-year period.
That sounds damming, but it remains to be seen if the club can document those payments. Remember, it benefits greatly by having Kanter return to Turkey.
Mike Miller's also on Twitter @BeyndArcMMiller, usually talkin' hoops. Click here for more.