If it's a good cause, Mike Brey's isn't above switching his traditional game attire (a black mock turtleneck) to something less traditional.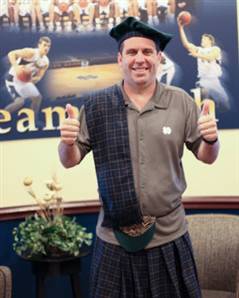 McDazzle
Like a kilt.
Notre Dame's coach is taking part in the "McDazzle 2010 Men in Kilts" event, which raises money and awareness for the Ronald McDonald charities in South Bend, Ind. Brey's one of 12 participants vying for the title of "best-dressed man in a kilt." If he wins, he'll coach the first half of the Irish's opening exhibition game in a kilt.
"After 10 years in mock turtlenecks, I am excited to change my look and participate in the first "Men in Kilts" event.  Help me raise money for a great organization," he says on the group's website.
Anyone wish to contribute can view the photos on this page. $50 lets you vote, which then pays for an overnight stay for a family with an ill child.
Personal note: My brother and his wife stayed at the Ronald McDonald House in Houston when their daughter, Addison, was born prematurely. Kudes to Brey for helping support a great cause.
(H/T: Jeff Eisenberg)
Mike Miller's also on Twitter @BeyndArcMMiller, usually talkin' hoops. Click here for more.