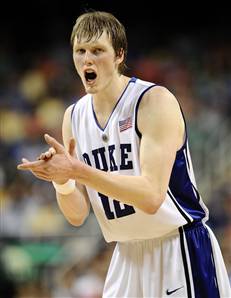 Jeff Zelevansky/Getty
---
How routine is arthroscopic knee surgery? So routine that Kyle Singler can have it on Friday – six weeks before Midnight Madness – and nobody really notices.
Considering the Duke forward was the Most Outstanding Player at the 2010 Final Four and the likely front-runner for 2011 national player of the year, you'd think it would raise a few eyebrows.
Nah. It's just minor surgery.
The school sent out a press release, which didn't even include a quote from Mike Krzyzewski (he's busy in Turkey). Most news sites simply had it as part of their routine coverage.
Maybe the timing of it is what's messing with me. Then again, Singler's busy summer probably had something to do with the timing – and necessity. Diamond Leung has a rundown of his busy summer, which included stops at four different camps, time training against the Team USA pros and hosting his youth basketball tournament in Oregon.
Still, if he seems a step slow to start the season, I think we'll know the reason why.
Mike Miller's also on Twitter @BeyndArcMMiller, usually talkin' hoops. Click here for more.