For NYC hoops to be relevant again, the area talent has to stick around. Steve Lavin and St. John's took a big step in that direction Monday.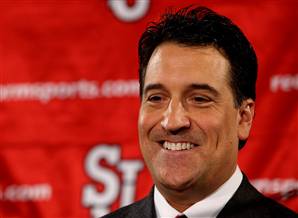 Craig Ruttle/AP
Queens native Maurice Harkless, a 6-6 wing rated as a four-star prospect, chose the Johnnies over schools like Arizona, Florida, Maryland, Memphis and N.C. State, giving Lavin his first marquee recruit.
"It's in my city," Harkless told the N.Y. Times. "St. John's is a good school, and I want to play in my city."
Now for the tough part. Harkless has to help Lavin build St. John's as a hoops brand again, which means getting more top-flight recruits and winning games. Harkless sounds game for the task.
"I'd rather be a part of the building process and doing it in this city," Harkless said. "Getting guys to stay home, you've got to be a good recruiter like Lavin."
Mike Miller's also on Twitter @BeyndArcMMiller, usually talkin' hoops. Click here for more.