"Ewing Theory" is now sports parlance for a team that thrive the year after a star departs. Bill Simmons first applied it to the Knicks (hence the name), but it works for nearly every sport. Last week, VUhoops blogger Brian tested it with Villanova and Scottie Reynolds.
Yet the Wildcats are far from the only college hoops team to which "Ewing Theory" might apply. Or even the best example.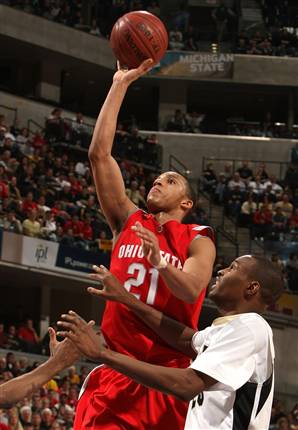 Jonathan Daniel / Getty Images
Take Arizona (and not just because they're another Wildcats). Senior point guard Nic Wise played 80 percent of the 'Cats available minutes, used 24 percent of the possessions, took a quarter of the team's field-goal attempts and led them in assists, steals and was second in scoring.
With Wise running the show, Arizona finished 16-15. Expect a better showing in 2010-11.
For starters, wing Derrick Williams – the team's best player last season – returns. So do other starters Kyle Fogg, Jamelle Horne and Solomon Hill, along with key sub Lamont Jones. Add incoming freshmen Daniel Bejarno, JOrdin Mayes and Jesse Perry and the 'Cats won't lack for scoring. And if the young squad manages just a slight defensive improvement upon last season's 97.9 efficiency rating (his Xavier teams rarely dropped that low), 20 wins is likely in a still diminished Pac-10.
A couple of mid-major schools also are good bets: Old Dominion and VCU.
ODU loses center Gerald Lee from its 27-9 squad, but returns every other player, including underrated guard Ben Finney and post presence Frank Hassell (a better rebounder and shot blocker than the bigger Lee). Adding freshman guard Dimitri Batten only helps matters. But the Monarchs aren't as worried about scoring. They win with defense. Their 51-50 NCAA tournament win against Notre Dame showed as much.
Colonial League rival VCU (27-9 last season) won't have shot blocker Larry Sanders, but the Rams will manage just fine. Incoming center Darrell Haley will fill his role inside, while returning starters Bradford Burgess, Joey Rodriguez and burgeoning scoring star Jamie Skeen could propel the Rams back into the Big Dance.
It'll be difficult for either CAA team to better 27 wins (or, in ODU's case, an NCAA tournament win), but don't expect a dropoff.
The best candidate for a "Ewing Theory" year? Ohio State. Not too many teams can lose the national player of the year  — who led the team in scoring, rebounding, assists, steals, took 30.7 percent of the shots and accounted for 34.7 percent of the possessions — and not miss a beat, but the Buckeyes will do just that.
Part of it's because starters William Buford, Jon Diebler, David Lighty and Dallas Lauderdale return. That impressive recruiting class featuring elite recruits Jared Sullinger, Deshaun Thomas and Jordan Sibert is another part.
But perhaps most important is seeing what the Buckeyes will do when they're not resigned to letting Turner do it all. When you've got a guy like that, it's easy to let him do anything he can to win. Sometimes that works, sometimes not. It did for most of the regular season, but didn't against Tennessee during the NCAA tournament. More offensive and defense balance – not to mention more depth – makes Ohio State a good bet to top 30 wins and reach the Final Four.
How's that for Ewing Theory at its best?
Mike Miller's also on Twitter @BeyndArcMMiller, usually talkin' hoops. Click here for more.