Well BYU? What'll it be? Will the push for football independence win out – and Mountain West dissatisfaction – prevail? Or will the Cougars settle for another conference, or possibly start their own? That Wednesday deadline to decide is approaching fast…
This Salt Lake Tribune story says BYU wants that football independence more than anything, mostly because of the almighty dollar. (Also, check out how the WAC tried to cripple the MWC by luring BYU, which has essentially backfired at this point. Fascinating reading.)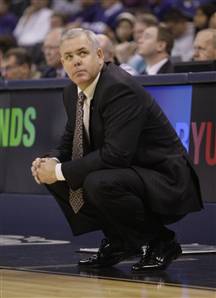 Tony Gutierrez/AP
If this happens, BYU hoops has few appealing options.
Jeff Eisenberg and Mike Sorensen think staying in the Mountain West is the best, though I wonder if the conference would go for that. It makes sense for the school and the MWC, but never underestimate the power of spite.
So Plan B, then? Join the WAC? In a word, no. That's a dead-end given that the remaining teams – Utah State, New Mexico State, Hawaii, Louisiana Tech, Idaho and San Jose State – aren't going to boost their RPI. Why fight for one NCAA tournament bid if you don't have to?
That leaves the West Coast Conference – an ideal landing spot.
Gotta agree with Andy Katz on this one, for a few reasons. Gonzaga and St. Mary's are ideal foils to the Cougars' formidable hoops program, while Portland and USF are programs on the rise. Sure, Santa Clara and Pepperdine won't pump up the fans in Provo, but that's not much different from what happens when Air Force and TCU play hoops there now.
Plus, there's TV to consider. The WCC's deal with ESPN keeps the league's marquee teams (Gonzaga, St. Mary's) on the national scene far better than the MWC's deal with Comcast/CBS College Sports/The Mtn. Frankly, it's on par with the Pac-10's FSN deal.
Most importantly for hoops, the WCC isn't a one-bid league. Never put your hoops program behind the one-bid 8 ball. And if you can be on TV and create a rivalry with a mid-major power like Gonzaga that's an easy move to make.
Mike Miller's also on Twitter @BeyndArcMMiller, usually talkin' hoops. Click here for more.