Preston Knowles needed that.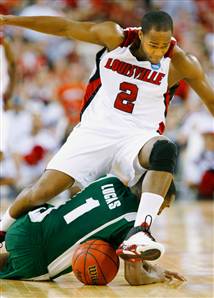 Jeff Haynes/Reuters
The Louisville guard struggled with his shot last season as the Cardinals never quite hit their stride during a 20-13 season. Worse for Knowles was an investigation into a scuffle with his girlfriend's stepfather, which earned him a two-game suspension this season. (He admitted striking the stepfather in self-defense and was never charged.)
So when Louisville coach Rick Pitino sent Knowles to volunteer at the Daniel Pitino Shelter in Owensboro, Ky., last month, it was supposed to serve as a wake-up call for the Cardinals senior. This Louisville Courier-Journal story says it did just that.
"It was a real big eye-opener about life in general," Knowles told the paper. "I was kind of going down a path of destruction. Now I'm taking everything for what it's worth. I feel like a totally different and changed person."
Will it help Knowles turn in a big senior season? Hey, the guy volunteered at a shelter this summer. Maybe he's not just worried about hoops anymore.
Mike Miller's also on Twitter @BeyndArcMMiller, usually talkin' hoops. Click here for more.