BYU basketball could have a memorable season. Not only are the Cougars – behind Player of the Year candidate Jimmer Fredette – poised for yet another 25-win season and possibly a deep NCAA tournament run, it could be their last chance to do so as part of the Mountain West.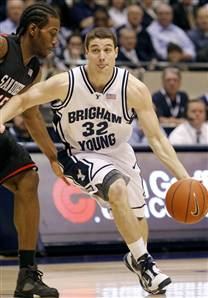 Kenny Crookston/AP
Or any conference, for that matter.
As school officials continue to ponder their league future – football's driving this decision, not hoops – Dave Rose's team is at an interesting juncture. If BYU bolts the Mountain West, it'll likely go the independent route in football and leave the other sports hanging. Could Rose' squad miss out on an automatic berth in the future? Will they be focusing on building an impressive schedule for the tournament seeding committee? And how will recruiting be affected?
Most of those will be answered after Sept. 1. For now, Rose is focused on 2009-10. And so is SI.com's Andy Glockner.
"We're very fortunate that we've gotten in position where that now has become quite a priority," Rose told Glockner. "What you want to do is put yourself in position to compete at the highest level in the postseason. I think last year's win against Florida was terrific for our players and their confidence."
It better. Glockner notes that BYU is 127-40 overall and 64-16 in the MWC since Rose's tenure began in 2005. Yet they haven't won the MWC tournament and are just 1-4 in the Big Dance. An encouraging sign – that one win came last season against Florida.
Yet the MWC will hardly be cakewalk for BYU. San Diego State, UNLV and New Mexico all figure to contend for the regular-season crown. But the best outcome would be another win – or two, or three – in March. As Glockner notes, if the Cougars do end up ditching the MWC, they'll need a bargaining chip:
If the Cougars move to the depleted WAC or even elect to join the West Coast Conference, which doesn't have a peer institution anywhere near BYU's size, a deep postseason run this year could be critical to future recruiting.

Ultimately, BYU may end up positioned like a Gonzaga or Memphis, a prototypical big fish in a small hoops pond. As such, the ability to play a higher-profile nonconference schedule would be nice, but wins in March are the best currency. With good talent, experience and newfound confidence, the odds are that BYU should find success in that cauldron this season. For various reasons, it would be a good time for them to hold up.
Mike Miller's also on Twitter @BeyndArcMMiller, usually talkin' hoops. Click here for more.