Scottie Reynolds was better than ever as a Villanova senior. He posted career highs in scoring (18.2) field-goal percentage (.457), free-throw percentage (.838), three-point shooting (.385) and offensive efficiency (117.6), which was 10 points better than his previous best, making him a no-brainer for first-team All-American honors.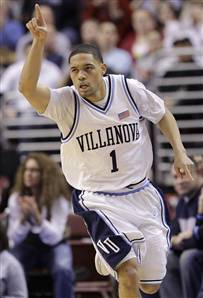 Matt Slocum/AP
All of which — as VUHoops points out — makes him a perfect "Ewing Theory" candidate.
That's not a rip on Reynolds, who led the 'Cats to a 25-8 record and another NCAA tournament berth (not to mention being the catalyst for a 2009 Final Four berth). It's just a facotr of "Ewing Theory," an old Bill Simmons idea. Here's how he defines it:
A star athlete receives an inordinate amount of media attention and fan interest, and yet his teams never win anything substantial with him (other than maybe some early-round playoff series).
That same athlete leaves his team (either by injury, trade, graduation, free agency or retirement) — and both the media and fans immediately write off the team for the following season.
Now, that doesn't quite apply to Villanova, as Reynolds did provide some substantial moments for the team. Also, no one's writing off Villanova this season. (I've got 'em in my Top Ten.) What is worth asking is how 'Nova responds when a four-year star like Reynolds — whose superb season often made the rest of the team look to him as the only scoring option — leaves. VUHoops broke it down.
If Corey Fisher, hot off his 105 point summer league game, comes in and takes Scottie's place, the team is in danger of repeating last season's mistakes.

If, however, Fisher returns as a true point guard and finds ways to share the scoring opportunities with his teammates, expect a Ewing-theory result. While we need to hope that total scoring will not decline over the season, the hope must be that the scoring is divided as evenly as possible through the lineup with multiple "stars" sharing the wealth of points.
That's Jay Wright's dream, right? Have Fisher step in, distribute and get everyone on the roster involved. If we've learned anything from the past six or seven NCAA tournaments, it's that balanced, well-rounded teams like Florida, Kansas, UNC and Duke cut down the nets and the ones with the indivdiual stars (Oklahoma, Texas) don't.
Mike Miller's also on Twitter @BeyndArcMMiller, usually talkin' hoops. Click here for more.