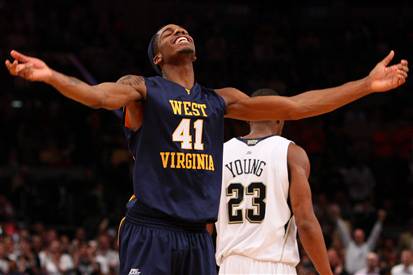 Jim McIsaac / Getty Images
Big East coaches wanted their tournament's double-bye to go away, but the conference presidents said no.
"The coaches are 16-0 in favor of the change but it was tabled," Notre Dame coach Mike Brey told Andy Katz. "We will still pursue it and discuss through the year and in Jacksonville at the [spring] meetings."

Brey said the coaches "felt the double by was a killer and the stats prove it."
As for the rest of us, well, perhaps we'll get to see more upsets. Gotta love March.
In the two years since the Big East used the double-bye format for its postseason tourney – a by-product of having a 16-team league – the four top seeds that received those double-byes have gone 3-5 in those eight games. Last year, Syracuse, Pitt and Villanova all stumbled in their first game out. In 2009, it was UConn and Pitt.
Sounds as if those coaches had had enough. According to Mike DeCourcy, some of the strongest advocates for changing the tourney format were the ones who got the double-bye. But despite voting to do just that back in May, the presidents wanted to keep it.
After all, you can't aggravate the TV folks. They're locked into the established format. Perhaps when the Big East's TV deals expire in a few years, we'll see a new format.
Until then, maybe we'll get more upsets. Sorry about that, coaches. We hoopheads don't mind.
Mike Miller's also on Twitter @BeyndArcMMiller, usually talkin' hoops. Click here for more.