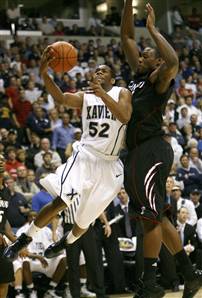 David Kohl/AP
Terrell Holloway is known as many things: a hound on defense, a floor leader and one of the keys to another Sweet 16 run for Xavier. Well, now he'll be known as something else: Tu.
The Musketeers' junior point guard, leading returning scorer and assist man is now officially known as Tu, pronounced "two."
"I had the nickname Tu Tu beginning when I was about four years old. It changed to just Tu when I was in high school. Nobody calls me Terrell anymore. Everybody calls me Tu," Holloway told Shannon Russell of the Cincinnati Enquirer.
I suppose that's appropriate for a guy who made just 32.2 percent of his three-point attempts last season. Makes me wish Dennis Rodman would've changed his name to "Boards" or Chris Dudley to "Bricks." So what do we do with his new name? Eammon Brennan has a few suggestions:
"Tu" provides all sorts of fun headline possibilities. "Sock It 'Tu' Me: Xavier Junior Scores 20 In Rout." "Get 'Tu' The Point: Holloway Takes Over Lead Role." "'Tu' You Really Want 'Tu' Hurt Me?: Imaginary Headline Writer Has No Idea Why He Chose A Boy George Reference But Let's Just Go With It."
Hm. Maybe I'll just stick with Holloway.
Mike Miller's also on Twitter @BeyndArcMMiller, usually talkin' hoops. Click here for more.