Whoa. Where'd that depth go? As Matt Norlander points out, Texas' busy offseason may be one of the most important college hoops stories of the summer that no one's talking about.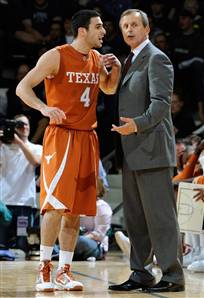 Peter G. Aiken/Getty
Last season, Rick Barnes' embarrassment of roster riches was a boon when injuries hit. But Damion James, Dexter Pittman and Justin Mason have all graduated. Avery Bradley bolted for the NBA. And now with freshman DeAndre Daniels opting for prep school and guard Verez Ward ready to transfer, the 'Horns are suddenly not so deep.
Consider this roster breakdown from BurntOrangeNation:
PG: Balbay, Lucas
SG: Brown, Joseph
SF: Hamilton, Williams
PF: Johnson, Chapman
C: Thompson, Wangmeme, Hill

Really hope Joseph and Thompson are college ready quickly. Won't hurt if they're ready to play D also. Not a ton of defense on the returning roster.

Losing Johnson, Hill, Chapman, Lucas, and Balbay after this season. Probably lose Hamilton too.
Does this now set up Barnes for a crucial season? Recruiting's always been his forte, but he's now trying to replenish half his roster, with possibly five more after this season. Without a strong 2009-10 season on the court and on the recruiting trail, Texas could struggle the next few years considering the Big 12 won't have its usual cannon fodder in Colorado and Nebraska.
Or perhaps this is when Barnes exceeds expectations. A more manageable roster may be just what he needs.
Mike Miller's also on Twitter @BeyndArcMMiller, usually talkin' hoops. Click here for more.