Tom Crean's sick of the top Indiana basketball talent not playing at IU.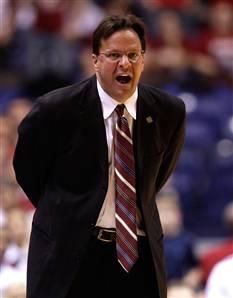 Andy Lyons/Getty
No coach can convince every four-star recruit to stick around (even if said coach has room), but the Hoosiers had missed out on some good players in recent years: Tyler Zeller, Walter Offutt, Angel Garcia, Robbie Hummel, Jeff Teague, JaJuan Johnson and Matt Howard, among others from 2008 and 2007. (They did snag Eric Gordon, though).
No more, sayeth Crean. Nearly every big-time recruit from the state has the Hoosiers on their short list. And that's because Crean focused on them.
"We're not caught up with other programs in the league, and we're not caught up with some of those long-term relationships that have been built, but I think we've made a real dent in it," Crean told the Indianapolis Star. "And if the negative recruiting we endure is any sign of it, then there's no question we are.
"There were a lot of schools that we recruit against that it was not in their best interests for Indiana to be on the road back. It was a lot better for them to have Indiana sitting where they were. And I know that we're climbing out of that and that's really important in the battles that we're in from a recruiting standpoint."
Among the players are Cody Zeller, Gary Harris, Yogi Ferrell, D'Vauntes Smith-Rivera and Jeremy Hollowell. Ron Patterson already committed.
And give Crean credit. He's not trying to bring in local kids just to appease the fan base. He wants the one who can play.
"I think the only thing worse than taking an in-state player that could be good is to take one that's not going to play," Crean told the Star. "You never want to take an in-state player that is not going to help you."
Mike Miller's also on Twitter @BeyndArcMMiller, usually talkin' hoops. Click here for more.