Talk about a role reversal.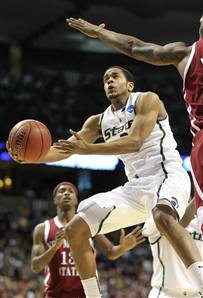 Otto Greule Jr/Getty
Chris Allen could've had a chance to play in his third Final Four this season with Michigan State. Instead, after being dismissed from Tom Izzo's program earlier this month, he'll spend the final year of college career helping Iowa State rebuild. In 2011-12. Would you be happy with that outcome?
"It sucks," Allen told FoxSports.com. "I ain't going to lie. I've been with these guys for three years. I feel like I'm a family member. It's just a matter of me growing up. It was a mutual agreement for both of us."
Izzo echoed those remarks, saying Allen left the MSU program on good terms and said the coaches also bear some of the responsibility for the departure. After all, he's trying to build his team chemistry in hopes of winning a national title. Losing a three-year player like that isn't going unnoticed.
On the other hand, Cyclones coach Fred Hoiberg couldn't be more pleased.
"Chris is a very versatile perimeter player who will make an immediate impact to our program when he becomes eligible," Hoiberg said in a press release. "I have had numerous talks with Coach (Tom) Izzo about Chris, and he has had nothing but positive things to say about him as a person and a player. Chris is an outstanding shooter, a great athlete and he proved to be an outstanding defender in his time at Michigan State."
That's all true. Allen will be one of Iowa State's top players in his lone season (along with Minnesota transfer Royce White). And give him some credit. He's trying to make the best of his new home – even if he will miss out on the Final Four.
"I'm excited to select Iowa State as the place to finish my college basketball career," Allen said in the release. "I'll miss Michigan State and all the people that have helped me and supported me over the last three years. My teammates and I achieved a lot together and I'll take that experience with me to help my new team. I'll be pulling for Michigan State next year and I know they'll be cheering for me. Like all college kids, I have areas to grow. This has been a wake-up call for me, and one that will ultimately make me stronger as a player and a person."
Mike Miller's also on Twitter @BeyndArcMMiller, usually talkin' hoops. Click here for more.