Here's a thought to chew on: Texas held all the cards in the Big 12-Pac-10 drama, but BYU's desire for football independence could spell the end of three conferences.
Who knew the Cougars had that kind of influence?
OK, so influence is slightly overblown. Call them a domino. So let's recap how this began last week.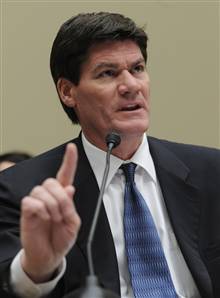 Susan Walsh/AP
Word leaked Tuesday night that BYU was giving serious thought to going independent in football and joining the WAC for everything else, including college hoops. The Mountain West responded by adding Fresno State and Nevada, bringing the league's number of schools to 10 if BYU did leave. Meanwhile, the WAC, now down to six football schools, tried not to panic about its future – if it has one.
A few days later, Internet chatter focused on a possible merger between the Mountain West and Conference USA. League officials denied it, sending out this release.
"The conferences have much in common and have worked cooperatively for many years and we are exploring creative ways to work together going forward.  The discussion included scheduling, television, and post-season football.  It is premature for anyone to suggest anything else at this point.  We have the strong support of our members as we work on a variety of strategic initiatives. We had a good discussion yesterday and likely will have more in the future."
Expect more vague statements like this for the next week or so. BYU has until Sept. 1 to decide its conference affiliation – is there more money to be made as an independent? It seems that way – which could conceivably affect the future of three conferences.
Still, as Dan Wolken writes, the Mountain West and commissioner Craig Thompson may be forced to do a complete revamp even if BYU does decide to stay put. With the Cougars, the league is stuck at 11 teams, which doesn't help for the football championship game. Adding a 12th wouldn't even guarantee a BCS autobid given the lack of punch among the 12. But a conference with 16, 18 or even 20 teams would be impossible to ignore, especially if it contains bigger schools like Houston or Memphis and targeted TV markets like SMU.
(As always, college hoops is secondary in this discussion.  Hoopheads could be forced to watch more unappealing mega hoop matchups with little payoff.)
Mostly, I wish conference realignment chatter was more fun. You know, kind of like this.
Mike Miller's also on Twitter @BeyndArcMMiller, usually talkin' hoops. Click here for more.