If you always dreamed of visiting John Wooden's home, you're in luck.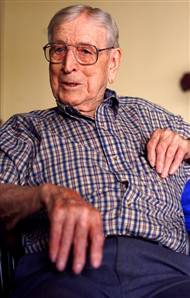 Damian Dovarganes/AP
The legendary UCLA coach died in June, and his family will soon place the Encino home on the market. But they're donating the contents of his den to the school, where it'll be preserved and showcased in the Bruins' athletic hall of fame.
The Los Angeles Daily news reports that everything in the room — from presidential letters, to collection of Abraham Lincoln books and even his rolltop desk — will make the trip.
"Five years from now and 50 years from now, we want our student-athletes to be affected by the man he was," said Bob Field, UCLA's associate athletic director of sports and administration.
"Maybe this is more of a tangible thing for people on the outside, and enjoyment of our own people. One of the treasures was sitting in his home surrounded by books and trinkets and letters and photos and the filing cabinet. They always came away treasuring that opportunity to sit in his den."
UCLA won't get everything, however. Some of Wooden's things will be sent to his native Indiana. Indiana State, where he coached for two years before heading to UCLA, and the city of Martinsville, where he grew up, have requested some memorabilia.
That's how it goes with perhaps the greatest coach is sports history. Everyone wants to figure out a way to honor you.
Mike Miller's also on Twitter @BeyndArcMMiller, usually talkin' hoops. Click here for more.