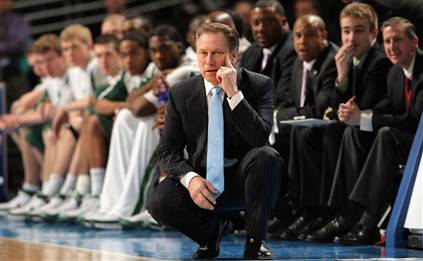 Doug Pensinger/Getty
Wanna play for Tom Izzo? Take a number.
Michigan State snagged its fifth verbal commitment in the last 12 days when Bay City, Mich., big man Matt Costello agreed to play for Izzo's program. That means every MSU roster spot it filled for 2011 and 2012. (And this is after securing a Top 11 class for 2010.)
Izzo's always had talent, but this is above and beyond, even for him. Spartans beat reporter Joe Rexrode says he's never seen this many recruits – and high-level ones at that – commit to Michigan State in such a short span.
No kidding. That's a recruiting bonanza even John Calipari would envy.
Here's Michigan State's prospect rundown, profiles and rankings from Rivals.com:
Kenny Kaminski (committed July 31) is a 6-7, 180-pound wing from Ohio who's a 2012 prospect.
Branden Dawson (Aug. 4), is a five-star, 6-6, 200-pound small forward. He's the prize of MSU's 2011 class.
Travis Trice (Aug. 4), a 5-11, 160-pound guard who'll provide depth I the 2011 group.
Denzel Valentine (Aug. 9) the 6-5, 205-pound Lansing product is a 2012 prospect who'll probably be rated as a four-star prospect.
Matt Costello (Aug. 10), a 6-8, 210-pound forward who's described as scrappy and a good passing big man. He's also a 2012 prospect.
Mike Miller's also on Twitter @BeyndArcMMiller, usually talkin' hoops. Click here for more.