Butler's still riding the wave from its remarkable run to the NCAA tournament title game. Coach Brad Stevens threw out the first pitch at a Cubs game. Point guard Ronald Nored drew fans' attention at a Brad Paisley concert. People recognize back-up guard Zack Hahn when he's out dining.
But that wave's nearing an end. When practice begins in October, Butler's back to being one of the 347 D-I schools gunning for the 2011 NCAA tournament. Only the Bulldogs' task may be a little more difficult.
They're trying to stay among college hoops' elite.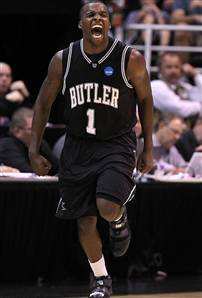 Jed Jacobsohn/Getty
After three straight trips to the Sweet 16 in the early 2000s, Gonzaga stayed there. George Mason, despite its run to the 2006 Final Four, hasn't cemented itself as a mid-major power (just a good CAA team). How to stay there? That's the question Mike DeCourcy addressed in this detailed piece.
The "Butler Way" probably won't change. The Bulldogs intend on playing a physical, defensive brand of basketball that prizes smart plays and limiting opponents' offensive chances. Nor will the recruiting likely change. Guys like Gordon Hayward, Shelvin Mack and Matt Howard weren't four-star prospects, but players Butler ID'd as ideal for their system.
That leaves two areas: scheduling and branding. Both can be nebulous.
The Bulldogs already have a nasty schedule for 2010-11, which serves two purposes: to prepare the team for the postseason and a possible NCAA berth, and stay in the public's eye. Now everyone wants them. As DeCourcy writes:
The Bulldogs will be the opponents when Louisville opens its new arena in November. They will travel to Xavier. They owe Siena a visit as a result of last year's BracketBusters matchup. They'll compete in the Diamond Head Classic in Hawaii and deal with Baylor, Florida State, Mississippi State and others. Oh, and there's a title game rematch against Duke.

"When TV gets involved, that's when you get the opportunities," Stevens says. "We called everybody for my first seven years and couldn't get called back."
But Butler has to be careful. They can be on TV and remain notable, but they have to win to build a brand people regard as a winning one. If you don't make the Big Dance, nobody remembers you for too long.
"The rest of college basketball has seen you have to play quality teams in order to be talked about for the postseason," Xavier coach Chris Mack told DeCourcy. "But you can't play 15 Dukes and North Carolinas and get your heads kicked in and think you're going to make the tournament."
It's not an easy task, and there's no guarantee Butler can remain a Top 25 program every season. (Even UNC has a down year.) But the Bulldogs have a plan in place. Now they just have to pull it off.
Mike Miller's also on Twitter @BeyndArcMMiller, usually talkin' hoops. Click here for more.