Isiah Thomas's new gig may not last much longer.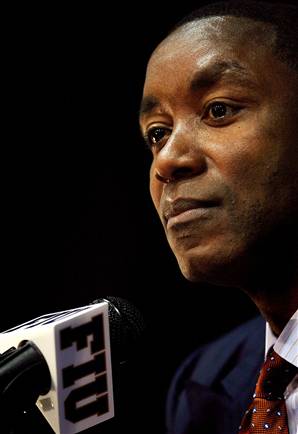 Doug Benc/Getty
Hired as a special consultant to the Knicks last Friday, the NBA is reviewing if the Florida International coach's role is against league rules. Team officials aren't allowed to have contact with players who aren't yet eligible for the draft, which would seem to put Zeke at odds with his FIU gig.
Some notable college coaches agree.
"It's a conflict [of interest] either way, from college or from the NBA, I just don't understand why it wouldn't be," Syracuse coach Jim Boeheim told Adam Zagoria. "You know, you're a college coach involved with kids and the NBA wants your players or evaluations of your players.
"It seems like it's kind of a conflict a little bit that you're coaching kids and then recommending them to pro guys."
Duke coach Mike Krzyzewski was more diplomatic, but no less encouraging.
"I would decline to do that just because I shouldn't be perceived to have an advantage in whatever way over another college coach, so that's why I wouldn't to do it," he said Tuesday. "I don't think there's anything ethically wrong with it or whatever, I just think that it's probably better to keep it separate."
"Have we served as consultants to the pros? Yeah," Krzyzewski said. "People call us before the draft, 'What do think of this, what do you think of that?' I think it's better to have it like that."
I'm sure Knicks fans would agree, especially in this instance. They must be dreading the thought of Thomas returning to the Knicks.
The only ones in favor of this whole thing must be FIU. Having a coach who consults for the Knicks – and who happens to be Isiah Thomas -boosts the school's hoops profile. Now if only Thomas could coach…
Mike Miller's also on Twitter @BeyndArcMMiller, usually talkin' hoops. Click here for more.