The combination of Kentucky basketball and John Calipari can make a seemingly never-ending news cycle in Lexington. This week could be the latest example.
Potential Wildcats recruit Anthony Davis will reportedly file suit against the Chicago Sun-Times this week regarding a story that alleged the his family received $200,000 to attend Kentucky.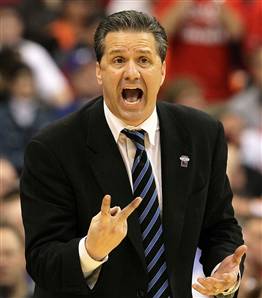 Jim McIsaac/Getty
Perhaps the suit will never be filed (Gary Parrish makes a compelling case for why it won't), but it's not preventing Big Blue Nation from getting more than a little fed up with what's been a summer of rumors and innuendo surrounding Calipari and UK.
So what's with all the allegations? A column by John Clay of the Lexington Herald-Leader makes the case that more people are simply willing to talk about this stuff.
"I think people are kind of tired of sitting around and watching some of these abuses, and so I think you're starting to see that there's more and more people that are willing to talk. I do think we have been able in the last couple years to develop much stronger information related to potential violations. … People understand that something will be done with that information, and they feel comfortable sharing it," said Rachel Newman-Baker, Director of Agent, Gambling and Amateurism Activities for the NCAA.
Newman-Baker has a point. There's more than just Kentucky rumors out there.
Alabama, Florida, Georgia, South Carolina, North Carolina and Clemson have NCAA investigators poking around. Kansas' new star recruit, Josh Selby, has eligibility issues. Same with Memphis' Will Barton.
And why? Clay has an explanation:
The NCAA has to be getting some help. People are opening up.

The continuing monetary escalation in college athletics has meant more pressure to perform. It also means more accusations concerning what the other guy is doing.

The explosion of media outlets, thanks to the Internet, means there are that many more opportunities for those accusations to turn from a whisper into a scream.
If anyone's sick of the screaming, take heart. Maybe the Internet as we know it won't be around much longer.
Mike Miller's also on Twitter @BeyndArcMMiller, usually talkin' hoops. Click here for more.