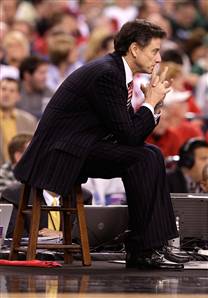 Rick Pitino's public relations nightmare is over. Now the hard part begins.
Karen Cunagin Sypher demanded millions from the Louisville coach to keep their one-night stand secret, then claimed he raped her after he reported the extortion. On Thursday, she was convicted on three counts of extortion, two counts of lying to the FBI and one count of retaliating against a witness.
That restores a tiny bit of Pitino's former luster. A very tiny bit. After all, nearly every lurid detail of this now public affair has been logged in court and displayed on the net. Sypher lost her trial. Pitino lost his image of slick, charismatic hoops icon.
"We don't view anything as a win," his boss, Louisville athletic director Tom Jurich said. "I think this has been a long 17 months. There's probably been a lot of damage done."
Jurich is thinking big picture. Despite the damage done, he's not about to fire his coach when's there's so much money at stake. Louisville has the nation's most profitable basketball program. It opens a new arena, the KFC Yum! Center, this fall. It's Pitino's job to fill those seats. (To say nothing of his recent four-year contract extension. Firing him now would cost the school about $15 million.)
It's what every sports cynic says: Best way to move past a scandal? Win games.
Pitino's been at Louisville since 2001. He's re-built the program into a national powerhouse by winning 220 games, Big East and C-USA titles and reaching the 2005 Final Four. The Cardinals want more of that. With one top 2011 recruit (Wayne Blackshear) already coming to Louisville and potentially two more waiting in the wings, keeping Pitino is the best way to ensure more success.
As for Pitino's image. Well, that's forever shot. He'll have to settle for simply being a basketball coach now.
Mike Miller's also on Twitter @BeyndArcMMiller, usually talkin' hoops. Click here for more.