Quincy Pondexter turned a summer spent playing with Team USA at the World University games into the finest season of his career, just missing out on the Pac-10 player of the year.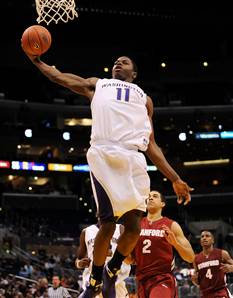 Harry How/Getty
Senior forward Matthew Bryan-Amaning is doing the same thing with Great Britain's national team this summer – but the Washington coaching staff isn't ready to proclaim Bryan-Amaning the next Pondexter quite yet.
But they're crossing their fingers.
"I certainly hope so. … I know he wanted to make that team and he did," assistant Paul Fortier told the Seattle Times. "You don't want to get cut. I don't think the coach had seen him play before so he was going in there. They just invited him and he ended up making that team. I thought that was huge and confidence wise that should be good. I think he's going to get ready for a good senior year."
The 6-9 forward is certainly a key for the Huskies in 2010-11. At 6-9, he'll be their most reliable post player and a dynamic shot blocker. But he'll need  a monster leap to have a season like Pondexter's. He turned in 19.3 points, 7.4 rebounds a game and hit 53 percent of his shots, a significant boost from his 12.1 ppg and 5.9 rpg as a junior.
Bryan-Amaning put up 8.8 points and 5.9 rebounds game last season. Safe to say, he's a ways from being Q. And the coaches know it.
We want Matthew to be better in his weak areas, but for sure we didn't forget where he's strong at as well. We want to make sure he's rebounding the ball and shooting a pretty good percentage. If he does that, he'll be fine," Fortier said. "We're not going to say now that Matt is going to turn into a face-the-basket guy. We know his strengths. He knows his strengths. Yes we want him to get better in other areas and we hope that becomes a part of his game."
Mike Miller's also on Twitter @BeyndArcMMiller, usually talkin' hoops. Click here for more.