Michigan State's primed for a run at the 2011 NCAA tournament title. But it'll have to do without Chris Allen.
The 6-foot-3 guard — the Spartans' best perimeter defender and a starter last season – won't be back for his senior season after he failed to satisfy demands set forth by coach Tom Izzo from the past few months. He'd been on thin ice since the spring. According to Jeff Goodman, Allen's the first Spartan dismissed during the Izzo era. The school released this quote from Izzo: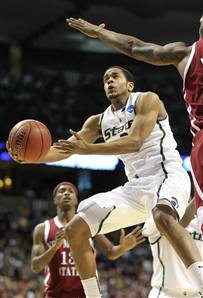 Otto Greule Jr/Getty
"It's been no secret that Chris Allen's been in a tenuous position since the spring," Izzo said. "There were multiple obligations that Chris had to meet in order to return for his senior season. While he did make progress through the summer, he has failed to meet all the obligations and will not be a part of our program this fall. I know he's going to be a great player. He deserves another chance to play basketball somewhere, but it's in everyone's interest that it be somewhere other than Michigan State. Like every player, he has to mature a little bit. I think a year away from the game will be beneficial for his development as a person and a player."
Allen averaged 8.2 points, 2.0 assists, was their third-most efficient offense player and played 61.8 percent of MSU's minutes last season. He also issued a perfunctory statement.
"Coach was straight-forward with me about what I needed to do to remain a part of the team. Unfortunately, I didn't meet all the obligations," Allen said. "I have enjoyed my time at Michigan State and I appreciate all the support from my fans, and everyone associated with the program. It's unfortunate things didn't work out, but I'm leaving on good terms with my teammates and coaches."
There's no word on where he'll transfer.
As for the Spartans, they remain one of the elite teams for the 2010-11 season. They return major contributors in Kalin Lucas, Durrell Summers, Draymond Green as well as key subs (now starters?) Delvon Roe and Korie Lucious. That's still a Final Four-worthy group which will be bolstered by freshmen Keith Appling, Russell Byrd and Adreian Payne.
There's a concern about perimeter defense (will Summers step into that role?) and some worries about the rotation, but things could be offset by the team chemistry. (Perhaps it'll be similar to what Georgetown experienced last season when DaJuan Summers left early for the NBA.)
Perhaps Duke just became the lock-solid preseason No. 1. Perhaps Purdue just became the co-favorite to win the Big Ten. Perhaps.
But if I learned anything from the 2010 NCAA tournament, it's that it's stupid to underestimate an Izzo team, even when there are injury or depth issues. This team did reach the Final Four last season without Lucas.
Perhaps it's a bit much. But I'll bite.
Mike Miller's also on Twitter @BeyndArcMMiller, usually talkin' hoops. Click here for more.