The Pac-10 is doing its best to recover from the stiff-arm Texas gave it about a month ago. Commissioner Larry Scott is thinking big and focused on branding.
Yes, branding. (Nike resides in this conference.) According to this article from SI.com's Andy Staples, Scott wants people to think of "innovation" and "championships" when they think of the Pac-10.
(pauses)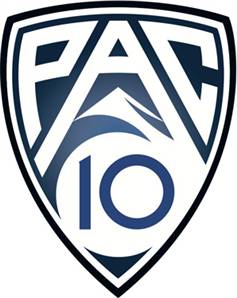 Courtesy of Pac-10
Um, Larry? You failed in your attempt to engineer a 16-team mega conference and settled for Colorado and Utah.  Perhaps you're aiming a bit high.
Sure, Pac-10 schools excel at winning titles in tennis and golf, but it's lagging in the money sports – football and basketball. USC's on football probation. UCLA's in a basketball holding pattern. And don't forget that your TV deal ($96.8 million in 2009) doesn't compare to the Big Ten ($220 million) or SEC ($209 million.)
Maybe I'm not giving Scott enough credit. He realizes things need to change and is trying to do so with some changes, such as a new website. This graf from Stapels' story is a good example:
Scott began the process of reinventing the conference by making concrete changes. He reorganized his staff. He met with television executives. In one a-ha moment, Scott was stunned when he learned from ESPN/ABC executives that the conference had turned down the reverse mirror option for split telecast football games on ABC. Reverse mirroring allows the portion of the country that doesn't get a particular game on ABC to watch that game on one of ESPN's family of networks. For example, if 33 percent of the country is getting Oregon-USC and 66 percent of the country is getting Michigan-Iowa on ABC, the east-coasters and Midwesterners who want to watch the Ducks and Trojans could simply tune to ESPN2. So instead of exposing the entire country to its product, the previous Pac-10 regime had forced Pac-10 football to remain largely a regional entity. Scott immediately corrected that mistake, telling ESPN that for the remainder of the existing contract, it could reverse mirror Pac-10 games at no extra charge. He also convinced athletic directors to allow more Thursday and Friday night football games to give the league more national exposure.
Still, some things just seem … off. The Pac-10 is still called the Pac-10, but will be the Pac-12 when Colorado and Utah officially join in 2011. So they plan on swapping the "0" for a "2" next year.
Why put out the new logo until everything's set? Wouldn't a change of logo and name be a better way to signify a new beginning?
(Then there's Scott Cromer of Mutt Industries, which did the new logo. "We're already designing the two." Already! I hope it's done in time!)
Brand all you want. Until Scott gets his conference better TV deals, changes people's viewing habits and ensures the conference never has a down year in football and basketball, the Pac-10 isn't going anywhere in the current conference pecking order.
Mike Miller's also on Twitter @BeyndArcMMiller, usually talkin' hoops. Click here for more.