You're going to be sick of hearing about Kyrie Irving next season. Duke's incoming point guard got the AP feature treatment a few days ago, which usually takes until midseason for most players. (That's when casual sports fans start paying attention to college hoops; the rest of us can't get enough.) In other words, he's ahead of schedule.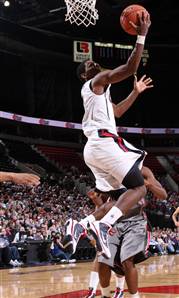 Sam Forencich/Getty
Then again, it's not his fault he's so good. Mike Krzyzewski knows it, and he's embracing it.
Irving will step right into the starting lineup for the defending champs, who'll probably open the season atop the polls. That means everyone's going to be focused on Irving, who's already playing against ACC foes during summer league games. It's also refreshing to read how Irving's approach.
"I'm dedicated to being better," Irving said. "We have access to our gym 24-7, and it's a great experience to come out here and play. It's going to get me ready for the season also."
Irving's also just one of several star freshmen to watch in the ACC.
North Carolina's Harrison Barnes and Reggie Bullock have been tearing it up in their Carolina summer league. C.J. Leslie and Lorenzo Brown of N.C. State are doing their best to ensure the Wolfpack return to the Big Dance.
People have come out in droves to watch, too. About 3,100 people – about 1,000 more were turned away — watched a team with Harrison and Bullock play Leslie and Brown last week. Bullock and Barnes combined for 55 points in the win.
"It was kind of a big deal," UNC sophomore John Henson told Jeff Eisenberg. "People came out to watch, which is a good thing. The young guys went out and did their thing. Everybody got to have fun."
But it still seems like Irving's going to have the most hype. How could he not? A freshman point guard for the nation's (likely) No. 1 team who also happen to be gunning for back-to-back NCAA tournament titles is the kind of player everyone focuses on.
Perhaps I should hold off on any more hype for now…
Mike Miller's also on Twitter, usually talkin' hoops. Click here for more.