Dean Smith's family confirmed Saturday what's been a well-known secret in college hoops circles – the legendary coach's memory is failing.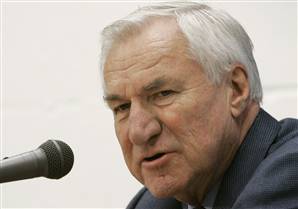 Gerry Broome/AP
They sent a letter to former players and coaches, parts of which made it into stories in various media outlets. This is from the Raleigh News & Observer:
"…Our dad has a progressive neurocognitive disorder that affects his memory. So now, he may not immediately recall the name of every former player from his many years in coaching, but that does not diminish what those players meant to him or how much he cares about them. He still remembers the words of a hymn or a jazz standard, but may not feel up to going to a concert. He still plays golf, though usually only for nine holes instead of eighteen. He still attends some sporting events – you might see him in the stands at his grandson's baseball game. He has difficulty traveling long distances to see the Heels on the road, but he insists on watching all Carolina basketball games on television and cheers as hard as he can for Coach Williams and the team."
Smith's wife, Linnea, also gave an extended interview to the paper. She said he didn't know the family was preparing a statement, but that's because his memory loss has been so difficult for him to handle. From the News & Observer:
"It is a complex medical diagnosis. … It's in a category of progressive memory disorders, and we're staying away from labels."

She added: "I think that we all face adversity; you can imagine someone whose work involved [so many] intellectual processes, that it's been a tremendous adjustment for him, as well as the rest of the family. But you move forward."
That must be easier said than done. Smith's one of the game's most beloved coaches. Now that his health is public knowledge, they'll be many, many stories covering his life and times. For hoopheads, that's a boon. We can't read enough about Smith.
But I'd guess it'll be a little painful for his family and close friends because Smith isn't quite the same person they remember. Every story's a reminder of what he's going through. It's a tough tradeoff. I just hope it's not always painful.
Mike Miller's also on Twitter, usually talkin' hoops. Click here for more.