Terrence Jones decided Washington wasn't the place. It sounds as if Tony Wroten, a star local prospect, may do the same. Quincy Pondexter graduated. Elston Turner transferred.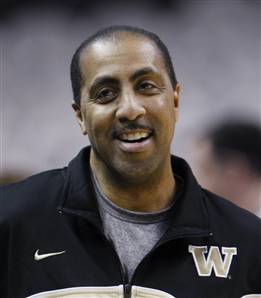 Paul Sakuma/AP
Still, don't feel bad for the Huskies. Lorenzo Romar may have the Pac-10's best program.
No one's been better than the Huskies the last few years, writes the San Jose Mercury News' Jon Wilner. Fifty-two wins the last two seasons is tough to beat. (OK, perhaps the conference isn't killing it right now, but one can hardly fault the Huskies for their rivals stinking it up.)
However, that's the extreme "what have you done for me lately view. UCLA's been to three Final Fours since 2006 and has more Pac-10 titles in that span. But the last two years, yes, Washington's been better.
They'll also be better in 2010-11. Can't argue with that (especially if Abdul Gaddy improves). From Wilner's blog:
There are two or three teams that seem to have the talent, depth and experience to make a run at second place, but it will take something going very wrong in Seattle for anyone to overtake the Huskies.
So who needs those recruits? Washington rules! At least in the Pac-10.
Mike Miller's also on Twitter, usually talkin' hoops. Click here for more.